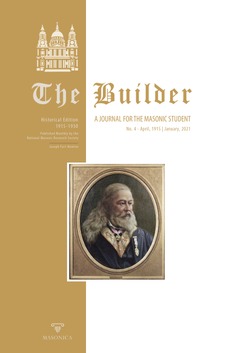 The Builder No. 4
A Journal for the Masonic Student
The Builder will be positive, but not dogmatic; open minded, but never indifferent; considerate of all, but absolutely uncompromising in respect of the principles of Freemasonry, seeking the truth, the whole truth, and nothing but the truth. Critical it must be, since criticism, as Arnold defined it, is appreciation, estimate, co-operation in the search for truth. Those who write for these pages may expect to have their theories put to the test of reason and fact in the open forum of debate, which is what the seeker after truth most desires. Let the discussion be frank, free and thorough; all that the editor asks is that it be fraternal in spirit, each one keeping an open mind and a kind heart toward all his comrades in the great quest.
Colección

Materia

Idioma

EAN

9788418379635

ISBN

978-84-18379-63-5

Depósito legal

AS 00143-2020

Páginas

90

Ancho

15,6 cm

Alto

23,4 cm

Edición

1

Fecha publicación

23-01-2021
Edición en papel
14,00 €
14,51 US$
Contenidos
HOW TO STUDY MASONRY | A symposium 7
THE FIELD OF STUDY 9 By Prof. Roscoe Pound, Harvard University.
THE PURPOSE OF STUDY 11 By Hon. Louis Block, Past Grand Master, Iowa.
THE METHOD OF STUDY 13 By Prof. F. W. Shepardson, University of Chicago.
"WORTHY AND WELL QUALIFIED" 15
PRELIMINARY STATEMENT 17
THE PHILOSOPHY OF MASONRY 21
Five Lectures Delivered under the Auspices of the Grand Master of Massachusetts Masonic Temple, Boston. 21
By Brother Roscoe Pound, Professor of Jurisprudence in Harvard University
IV PIKE 21
CHARGE GIVEN TO THE CANDIDATE BY HIS FATHER 35
PIKE, THE PATRIOT 39 By Lilian Pike Roome
Expansion. 40 National Defense. 41 The Union. 41 Masonry. 43
HYSTERIA IN FREEMASONRY 45 By Bro. Wm. F. Kuhn, P. G. H. P. (Missouri)
PROBLEMS IN MASONIC CHARITY 53 By Bro. Geo. E. Frazer. Grand President Acacia Fraternity Ploughing And Reaping 59
The Presence 60
Wisdom Of Albert Pike 60
Maxims Of Mark 61
There Is No Unbelief Peace 62
The Better Way 64
Fear 64
Peace 64
The Mystic Art 66
The Church 66
EDITORIAL | THE SPIRIT OF EASTER 69
CORRESPONDENCE
The Happy Way. 75 That War-Lord 76 Hiram, The Craftsman. 77 The Twenty-Four Inch Gauge 78 Operative Masons. 78 Why Study Masonry? 79
THE LIBRARY | IN A NOOK WITH A BOOK 81
Questions. 84 Books Received. 87 At Her Grave. 87
---
---
Mercado
Envíos a TODO EL MUNDO